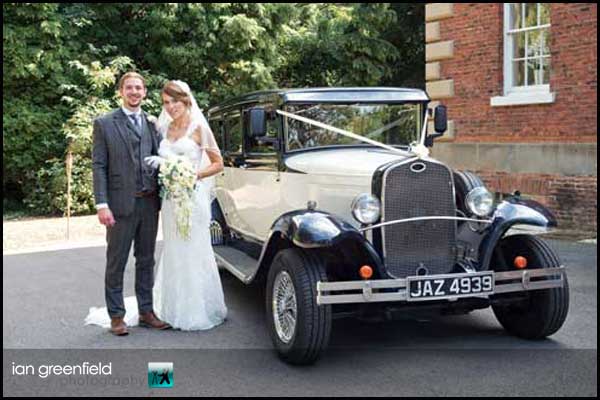 It was a pleasure to photograph the wedding of a young couple that we've known for so long. Hannah and Andrew were married at St. Peter's church in Scotter, followed by a wedding reception at Hirst Priory.
They had chosen a Great Gatsby theme for their wedding reception at Hirst Priory, followed by a roaring 20's themed party for family and friends afterwards.
Hannah and her four lovely bridesmaids Joanne, Georgina, Lauren and Lauren stayed the previous night at Hirst Priory, along with Hannah's mum, Vicki. The bridal party had a fun, relaxing night, ready for the exciting day ahead. Preparations started with the arrival of Natasha McIntyre (hair stylist) and Izzy Donson (bridal make-up). These two transformed all the ladies into 20's style beauties, with period hairstyles and makeup. The bridal flowers were designed by Flower Theatre Florist of Scunthorpe. Hannah carried a beautiful bouquet of roses adorned with strings of pearls, so in keeping with the Gatsby theme.
Hannah was helped into her wedding gown by Vicki, sharing a couple of intimate mother and daughter moments before rejoining the bridesmaids and heading down to the vintage wedding car (supplied by American Pie Limos).
Hannah's Uncle Gary escorted his beautiful niece in the wedding car and had the honour of giving her away. Chief bridesmaid Lauren was on hand to make the final adjustments to Hannah's beautiful lace gown, as Hannah prepared to walk down to aisle to meet up with Andrew, who was waiting at the altar for her.
The ceremony was very emotional, with Vicki giving a heartfelt reading, welcoming Andrew formally into the family. After the vows and the swapping of rings, it was time for Hannah and Andrew to sign the register amidst congratulations from both sets of parents. It is plain to see the smiles of delight from Trish & Mike and Vicki & John, along with the glow of happiness from our new bride and groom, and the rest of their family and friends in the congregation.
After the traditional confetti throwing, it was time for a few close family photos outside the church, before everyone headed to Hirst Priory for the wedding reception.
The happy couple had requested a photo of all their guests, followed by various photos of family and friends.
After this, there was ample time to take some stunning photos of Andrew and Hannah as they began to relax and enjoy their time as Mr & Mrs.
Soon it was time for the speeches, introduced by Gary, firstly John, (father of the bride speech), Andrew, and then Andrews brother Adam (best man). This was followed by a champagne toast, and then the wedding breakfast.
We were sworn to secrecy about the big secret of the day, the special first dance. Hannah and Andrew had taken dance lessons and performed a spectacular routine to Frank Sinatra's "New York, New York". Their audience were delighted, and the couple completed their dance amidst cheers of surprise and encouragement.
All in all, it was a wonderful day, and a perfect wedding. Hannah and Andrew have honeymooned in Rome, the eternal city. A fitting choice for this lovely couple.
We are looking forward to showing Hannah and Andrew the rest of their wedding photos soon.
So till next time….. 🙂
Ian