Aldwark Manor wedding photography
Aldwark Manor wedding photography enquiries are always a pleasure, and the one for the wedding of Sarah and Neil was no exception. The wedding ceremony was at St Stephen's church, Aldwark followed by a reception at the renowned Aldwark Manor hotel.
Sarah & Neil, as all wedding couples, had put a lot of time and effort into planning their special day. Consequently, as their chosen wedding photographer, I was delighted with the endless photo opportunities.
Aldwark Manor wedding photography – bridal preparations
Sarah and her two lovely bridesmaids had stayed overnight at Aldwark Manor, and were happy to pose for some "prep" photos as soon as I arrived.


The pre-wedding atmosphere was of excitement and laughter as the girls got ready. Sarah's shoes were white satin, embellished with a bow of pearls.




She also had a bridal garter, hand made to match her wedding dress.


They were soon joined by Sarah's mum, Dawn, and the cute little flower girl, Charlotte, and page boy Alfie, and his brother Riley.




Sarah's father Anthony arrived, bringing a special gift for his daughter, a pair of China ring boxes. This is an old wedding tradition in Germany, where he now lives.




Sarah was soon in her beautiful wedding dress, with Dawn and the bridesmaids adjusting all the layers of the gown.


Aldwark Manor wedding photography – arriving at the church
With the bridal party ready to make its way to the church, Anthony looked so proud of his beautiful daughter.




Neil and his best man James, were waiting at the church, along with Sarah's brother Christopher.
The boys were in good spirits, and eager for the start of the ceremony.
Aldwark Manor wedding photography – at St. Stephen's church
Sarah and Neil exchanged their wedding vows, and the whole ceremony went perfectly. Immediately after the wedding ceremony, Sarah and Neil had several photos with just close family, before returning to Aldwark Manor.
Aldwark Manor wedding photography – the reception at Aldwark Manor
Back at Aldwark Manor the friendly and efficient staff were waiting to welcome them with champagne and congratulations.
Aldwark Manor wedding photography – room preparations
Meanwhile inside the Aldwark Manor hotel, the room was made ready for the reception.
Wedding co-ordinator Kim led the happy couple through to the terrace, where all their guests were assembled. A romantic ambiance was provided by the gently trickling fountain as Sarah and Neil were greeted by their guests.
Guests had bags of petal confetti, and formed a corridor for Neil and Sarah to pass through, with everyone cheering. What beautiful wedding photos this made, with the pastel petals fluttering in the gentle summer air.
Set in the water garden, surrounded by the lawns and shrubbery, this was an ideal place for family photos. No wedding is complete without the family line ups, as a memento of the wedding day. Guests were able to watch from the terrace, whilst the Aldwark Manor staff ensured that everyone had drinks and canapes.
Sarah and Neil were a lovely wedding couple and it was a real pleasure to take their wedding photographs. We had so much fun as we took advantage of the hotel's grounds to create some beautiful wedding photographs.
Sarah and Neil's love and happiness shone throughout the day in all their photos.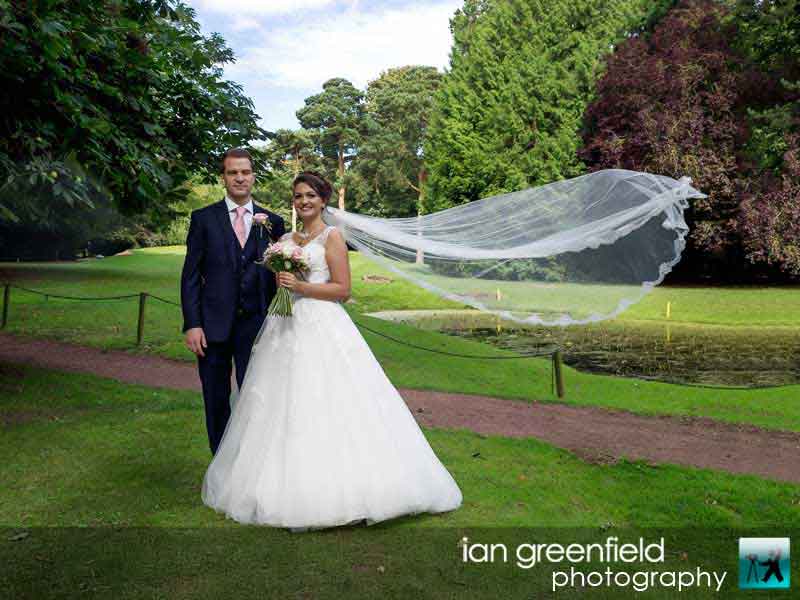 Aldwark Manor wedding photography – Sarah and Neil together
Aldwark Manor, with its rolling lawns and wooded areas provided excellent photo opportunities for our smiling bride and groom. Both were eager to make the most of the late afternoon sunshine, with some more photos after the reception.
Aldwark Manor wedding photography – evening reception
Then, it was back inside for the evening reception, for cutting the cake, and of course, the "First Dance".
Amazingly, just as the sun was setting, we were lucky enough to capture a gaggle of geese flying over the spot where we were, creating a very unique wedding photograph.
A lovely end to a perfect day….no wonder I love being a wedding photographer!
Aldwark Manor wedding photography
I hope that you have enjoyed looking at these photos as much as I have enjoyed sharing them with you.
If you need a wedding photographer, or know someone who does, please get in touch. I'd love to hear from you.
See more from our Fine Wedding Photography by clicking here
or contact us via phone or email here.
So, till next time…

Ian