dower house knaresborough wedding photography : Amanda & Ross
Amanda & Ross
dower house knaresborough wedding photography
The Dower House, Knaresborough was the picturesque setting for Amanda & Ross's wedding. This well established hotel, situated between Knaresborough & Harrogate has long been a popular venue for Yorkshire weddings.

The Dower House can cater for large or small weddings in its various rooms and as a result it is always in popular demand. Amanda & Ross were delighted therefore when they met with Jonathan (the wedding co-ordinator) and found that their date was available.

Amanda chose two good friends Charlie & Louise as her bridesmaids, whilst Ross had the support of Mitch & Kevin.
Beautiful wedding dress
Amanda wore a fitted gown of champagne lace with a jewel encrusted bodice and gently pleated organza shoulder straps.

She had a beautiful flowing full length veil with a jewelled tiara which sparkled in the summer sunshine.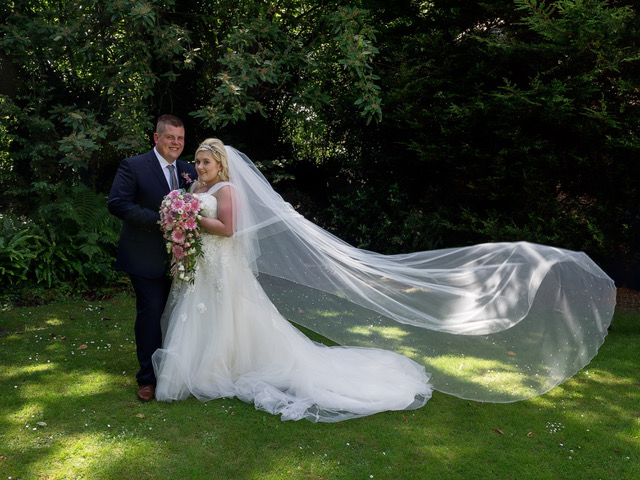 Amanda's wedding bouquet was of pink gerbas and pink, white and lilac roses. Her bridesmaids carried smaller matching posies.
Ross and the other gentlemen of the bridal party wore pink gerbas in their button holes.

The landscaped gardens of the Dower House provided a scenic backdrop for Amanda & Ross's wedding photos.
The grounds also provided areas of ample shade to ensure that guests remained cool whilst sipping their champagne cocktails.
It was a fun filled day with plenty of happy smiles from all of the wedding party and their guests.
The lovely wedding cake was made by Louise Jugg for Amanda & Ross, very attractive, very tasty, much enjoyed. Thank you.
Guest favours included scented candles and wild flower seeds to sow as a memento of the day.
Wedding photography was an important part of Amanda & Ross's wedding. Like many brides, Amanda had gleaned lots of ideas for photos from wedding magazines, so we were happy to oblige her every wish.
Festivities continued in the evening with a disco and buffet for many of the happy couples friends and colleagues.
The disco was supplied by professional DJ Chris, from Yorkshire DJ Beats who kept all of the evening guests entertained with his music.
All that remains is to wish Amanda & Ross a long and happy life together.
So, till next time…
Ian
See more wedding photos from our galleries. To find out more about who we are.