Mount Pleasant Hotel Doncaster Louisa & Jack
The Mount Pleasant Hotel Doncaster, hosted the wedding of Louisa & Jack, on Wednesday.
Firstly we started out by greeting Jack and his bestman at the front of the Mount Pleasant hotel.
The wedding car was provided by Fabulous Cars owned and run by Ian Brown, providing beautifully kept vintage style cars.


Whilst Jack and the guys were chilling by the pond, I couldn't resist pointing out the "caution deep water" sign behind Jack which caused much laughter and merriment between the blokes.
Because fo this, Jack was met with such comments as "Yep, it really doesn't get any deeper than this, it is a wedding day after all eh?"
Jokingly, Jack asked for a photo of him by the sign so that he could share it later on.


Our groom, Jack, and his groomsmen were fun of high spirits and seemed to be ready for all of excitement on the day.
Everyone was looking forward to the lovely relaxed family wedding.
These photos taken at the front of the Mount Pleasant hotel really captured the mood of the happy group.

Our radiant bride, Louisa arrived with her father, and her bridesmaids.
She made her way smiling through the reception area, holding her deliciously scented bouquet of pink and white peonies and roses. (flowers by Jills Fab Flowers)




Through the "secret garden", the bridal party made their way to the wedding gazebo where their guests were waiting.




The short ceremony was sealed with a kiss.




The register signed.




Then time to celebrate with friends, family and champagne.


Wedding Photos in the grounds at Mount Pleasant hotel
Although time was limited, we took the opportunity to take advantage of the lush grounds of the mount Pleasant hotel.




Just time for a few more wedding photos with the vintage style wedding car before it was time for the new Mr & Mrs Donkin to join their guests for the wedding breakfast.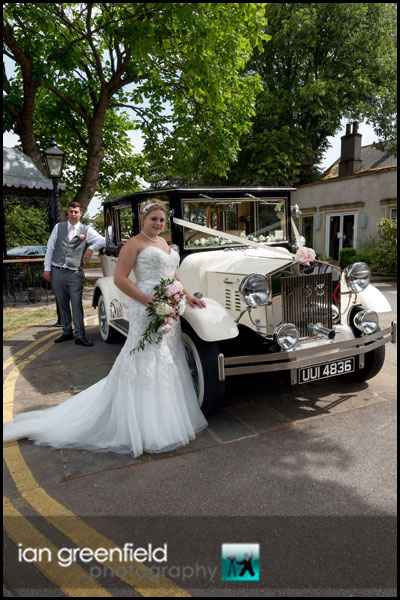 Mount Pleasant wedding photography
I hope that you have enjoyed looking at these photos as much as I have enjoyed sharing them with you. I wish all the very best to Louisa & Jack and look forward to seeing them again soon.
Learn more about Ian Greenfield Photography HERE.
If you need a wedding photographer, or know someone who does, please get in touch. I'd love to hear from you.
See more from our Fine Wedding Photography galleriesHERE
or contact us via phone or email here.
So, till next time… Ian